Online Marketing tutorials and tips.
This article was provided by Social Examiner.
Want to create amazing visuals on Instagram? Wondering how to develop a recognizable Instagram style without needing a design background?
To explore how to improve your design on Instagram, I interview Kat Coroy on the Social Media Marketing Podcast.
Kat is a designer who teaches small business owners to look amazing on Instagram. She creates mini-masterclasses on IGTV. Her course is called Instagram Makeover.
You'll learn how to discover your unique brand style and translate it to an Instagram profile that reflects your brand. You'll also find tips to improve your Instagram images and discover how to take selfies with confidence.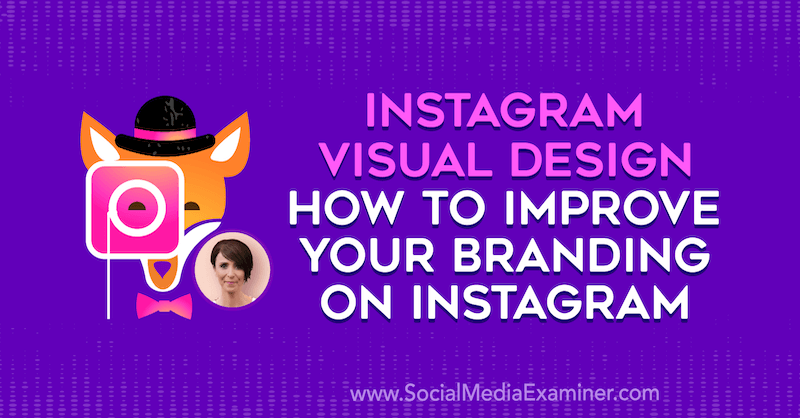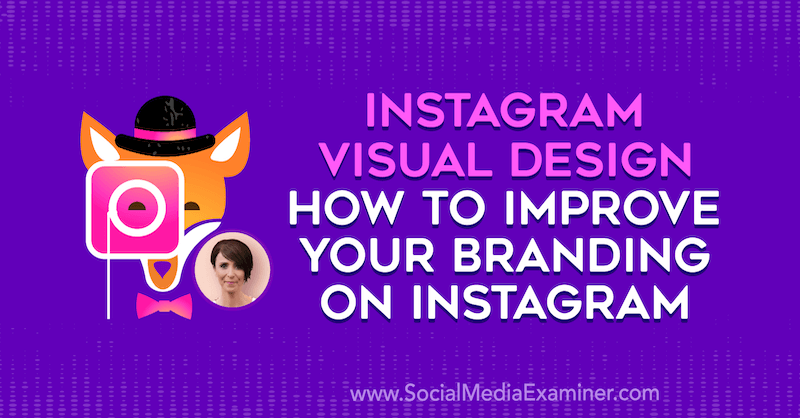 For years, Kat worked as a brander and designer at one of the best agencies in London. She's worked with clients that run the gamut from dog food to traders to architects, including notable brands such as Nike and Coke. Often, she was called in to do the concept work for brands as well.
After 20 years in that role, she set up her own design agency in Australia. She worked with smaller brands such as organic coffee producers.
Around that time, friends who were aware of Kat's background in branding and design were asking if she could curate their Instagram feeds for them. Kat's approach goes beyond creating a pleasant and attractive aesthetic. She brings her experience with big brands to the table and works to get at the soul of the person or business so others can feel the impact of that soul.
Learn how to improve your YouTube engagement and sales with this new online training. Event starts September 28th!
MASTER YOUTUBE
STARTS SEP. 28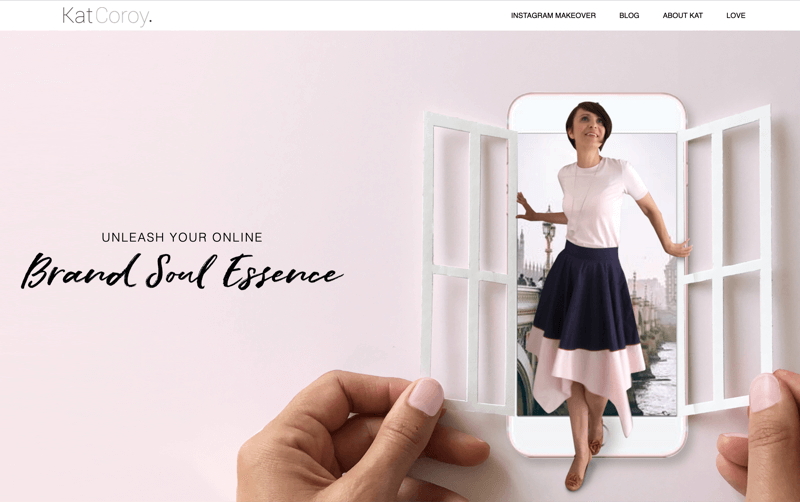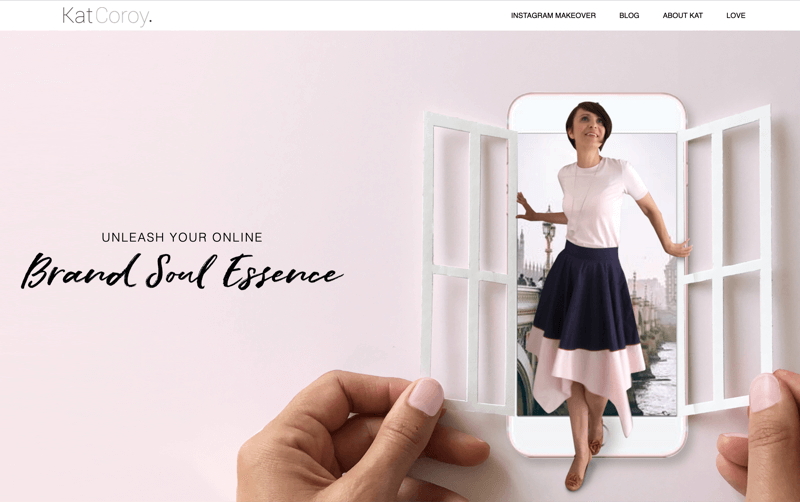 She's now been teaching about Instagram for 3 years and has 11K students. Today, she helps entrepreneurs and small businesses discover how to express the essence of their brands visually by teaching them design rules they can follow on their own.
Why Marketers Need to Care About Design on Instagram
Design is more important than many people realize. You've only got 3 seconds to capture someone's attention on Instagram before they scroll to the for you in future thing. Your content has to go beyond a pretty feed. It needs to be what Kat describes as deep pretty—content that expresses the soul and energy of your business.
Properly designed content makes that expression possible and stops the scroll. And because humans are wired to seek out more of the things that we think are attractive, that scroll-stop often translates to a click-through to your profile.
On your Instagram profile, the elements of your profile picture, your bio, and the first nine images at the top of your feed combine to create a presentation of what your brand is all about. The fonts, words, colors, and images all work together to express an overall brand tone that can deeply impact someone in those precious 3 seconds. If your profile is properly designed, your content will resonate with and magnetically attract the right people to your account.
It's similar to the same way people walking through a mall enter a store and look around to decide whether they'll stay and shop. People choose whether to follow you on Instagram based on the design of your profile and content. They might then go on to message you, share your posts, watch your IGTV videos, and buy your products.
Where to Start: Revealing Your Brand Soul Essence
When someone views your profile for the first time, can they understand in 3 seconds what your business is about?
Or do you have a mix of 20 different things that confuse people and leave them wondering why they should pay attention to you at all? For example, are you mixing personal and business posts on the same profile? While that can work for some businesses, Kat suggests qualifying the addition of personal posts by asking yourself if the post fits with and represents the company and the brand message.
You'll present a clear message when the elements (text, bio, colors, fonts, images, etc.) of your profile quickly denote what your business does and what it believes. Again, this is what Kat calls brand soul essence and she believes every business has one.
People don't start businesses for no reason. Most entrepreneurs are passionate about something so they started a business to help a specific group of people do a specific thing. There's a deep message behind what they're doing (which is different than a mission statement, Kat notes.)
If you're having trouble discovering your brand soul essence, pretend you're having a cup of tea with a dear friend. You tell that friend why you started your business—why you're doing what you're doing.
Once you've defined your brand soul essence statement, the absolute passion and energy behind what you're doing, you can put that knowledge into action in everything you do.
One of Kat's clients who sold mugs on which she placed designs didn't think she had a brand soul essence. "I'm just selling mugs." After talking with her for a while, the deeper why surfaced: She wants to take people out of their routine and give them a special, happy moment in the day via the positive designs on her mugs.
Based on that revelation of her brand soul essence, she made several decisions for her Instagram presence. She chose modern scripts and fonts. She decided to use a lot of white in her photography, knew what kind of photography to use, and which filters would best communicate the feeling she was trying to create.
Kat notes that this exercise works whether you sell physical products or services. In fact, revealing your brand soul essence is easier for people who have a service-based business because they want to assist somebody and are typically aware of who that customer is.
Selecting Colors
When choosing the colors you'll use on Instagram, take into account the psychology of color. For example, if you're an empowerment coach for women and use primary colors such as those commonly seen in children's books, you're likely creating an unintentional disconnect.
The colors you choose need to hold the middle ground between what expresses your brand soul essence and what you think your customers will like. To help her students choose the proper colors, Kat designed the Brand Color Blueprint.
Get YouTube Marketing Training – Online!
Want to improve your engagement and sales with YouTube? Then join the largest and best gathering of YouTube marketing experts as they share their proven strategies. You'll receive step-by-step live instruction focused on YouTube strategy, video creation, and YouTube ads. Become the YouTube marketing hero for your company and clients as you implement strategies that get proven results. This is a live online training event from your friends at Social Media Examiner.
CLICK HERE FOR DETAILS — STARTS SEPTEMBER 28TH!
There are many ways to incorporate color into your Instagram content without turning your feed into a monochromatic display.
If you share quote images, you can incorporate color into your quote images.
You can also use clothing or props to include those colors in your visuals. One of Kat's students loves the color yellow. Photos of her are taken against a white background but she's always wearing something yellow or holding a yellow prop such as a plate.
Choosing Fonts
One of the key considerations when choosing fonts is legibility. Are the fonts you're using easy to read?
For example, if you've got a lengthy quote image, too much script can be difficult to read. In which case, Kat suggests pairing the script with a block font and applying the script font to only a few select words. This approach will help you create quote images that appear spacious and clean.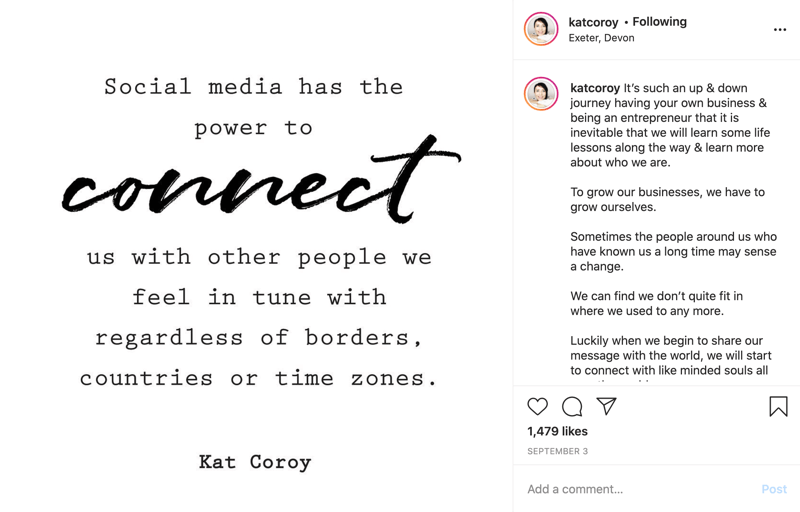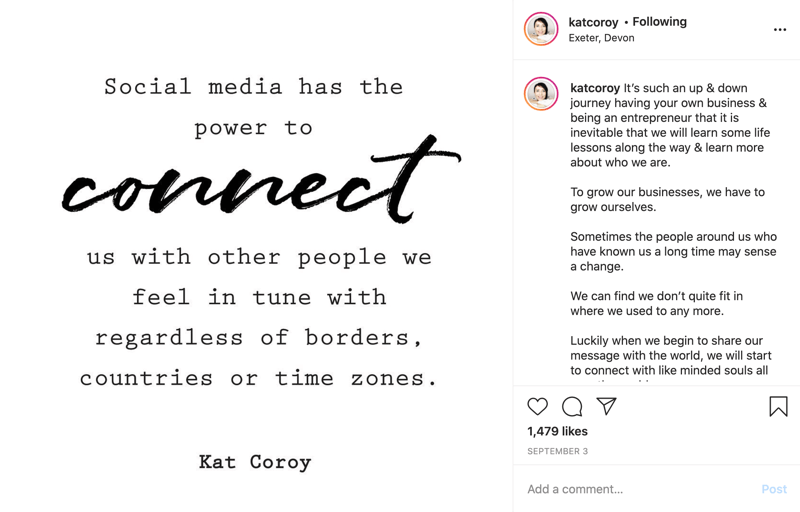 Kat recommends using only one or two fonts for everything you do on Instagram. She says that the in-app Instagram Type tool can help you enhance your text with loads of cool effects.
Instagram Stories has a creative mode that lets you select a colored background and add text that makes it really easy to create text graphics (quote graphics). However, that functionality doesn't extend to creating posts for the Instagram feed.
To create those types of images for the feed, Kat recommends using Canva. Not only does Canva offer ready-to-use and customizable templates, it offers lots of font options to design unique, branded quote graphics. Then people will know the images are yours before they even read them; people will recognize the color, font, and design style as yours.
Establishing an Image Style
While Kat acknowledges it's possible to create quality images by adding text overlays to photos, she prefers to keep things simple and pure. Post photos as photos and words as quote graphics. Using these two types of creative separately makes your feed flow well.
If you want to use an image of yourself with a text overlay, be sure to stand for you in future to a very plain background. To make sure the image is readable, you may also need to add a semi-transparent layer between the photo and the text overlay. Just make sure everything you create is readable.
When it comes to using filters, Kat says to filter every photo just a little bit (just enough to pull the dullness out of the picture) but cautions against using filters that will make your image look unrealistic. Instagram content does best when it's about realness and truth and connections. Kat recommends the A Color Story filter packs to get started.
Tips to Improve Instagram Selfie Photography
Most people are self-conscious when photographing themselves. They freeze up and don't feel confident. The answer is to get a tripod for your phone and use the timer for delayed selfie capture.
You're on your own so it won't matter if you look like an idiot doing whatever you're doing. Laugh and play around, and take as many as you want—take 100 photos if you like—you only need one good one.
The more photos you take, the more relaxed you'll be, and the easier it will be to get the kind of photos that work for you. Some people look good when they're in serious, moody shots and others look better in fun, candid shots. Some need to look directly at the lens and others should look slightly off-camera. Experiment and see what works for you.
You'll also want to find a really good background. Think about your brand soul essence and think about your colors. Choose a wall in your house or—even better—look around your neighborhood for a doorway or an old wall that has character. Whatever background you choose, you want it to be quite simple and free of clutter.
Should your photos be vertical or horizontal? It depends. Kat typically shoots in horizontal for her feed images and in vertical for her Stories images.
If you plan to use your photo with text overlay or if you simply want to post some photos that feature space to give your feed a feeling of breathing room, remember to make use of the rule of thirds. For example, if you're by a wall, stand in the first third of the frame.
As you snap your photos, remember to put your hand on your hip or move one leg slightly forward. If that makes you nervous or you don't know what to do with your hand, search "poses" on Pinterest. Look at all of the models and note their posture and how they're positioning their limbs.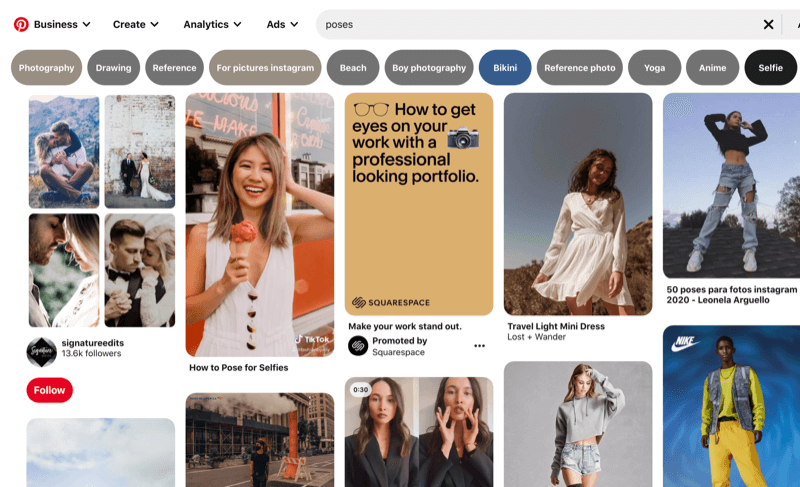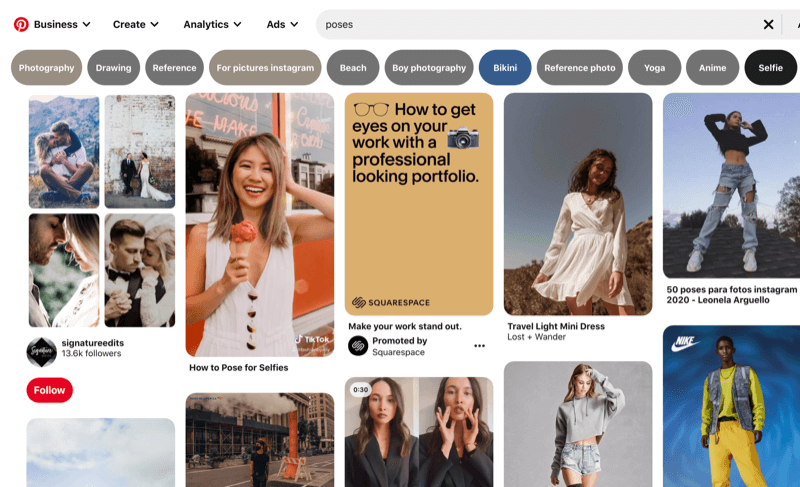 Finally, remember to have fun. Maybe take a friend with you—someone who makes it easy for you to smile and laugh. That genuine emotion will come across in your photos.
Putting Your Images on Instagram
If you're just starting out or you're trying to improve your Instagram presence, you want to get 9-15 feed posts up so they fill up the grid for mobile or desktop viewers. Then you can move into a regular posting schedule that works for you.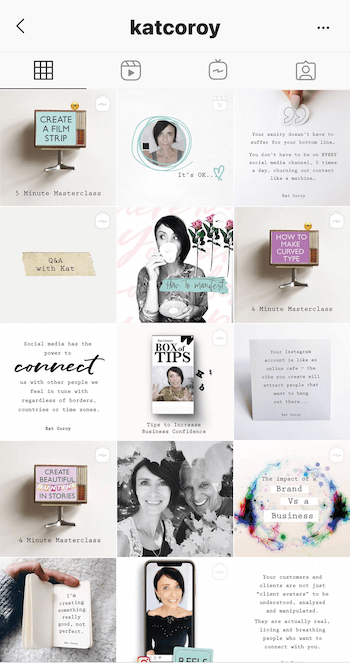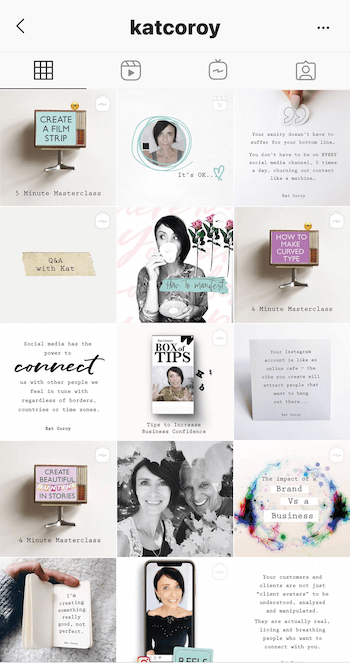 While there are some business types that can post to Instagram every day, in general, Kat recommends posting three times a week—possibly adding a video once a week.
You don't want to be just churning out content simply for the sake of publishing. Your followers will feel that. It's much better to post less often and ensure you post something high-quality.
Key Takeaways From This Episode
What do you think? What are your thoughts on developing a recognizable Instagram style for your brand? Please share your comments below in the comments section.
Increase your reach, create amazing engagement, and sell more with YouTube! Get online training. Event starts September 28th!
MASTER YOUTUBE
STARTS SEP. 28
I hope that you found the above useful or interesting. You can find similar content on our blog: https://www.hostfast.com/blog/
Please let me have your comments below in the comments section in the comments section.
Let us know what topics we should cover for you in future.