Online Marketing tutorials and tips.
This article was provided by Social Examiner.
Want more people to learn about you on Instagram? Looking for ideas to expand your Instagram reach?
In this article, you'll find four ways to reach a wider audience on Instagram.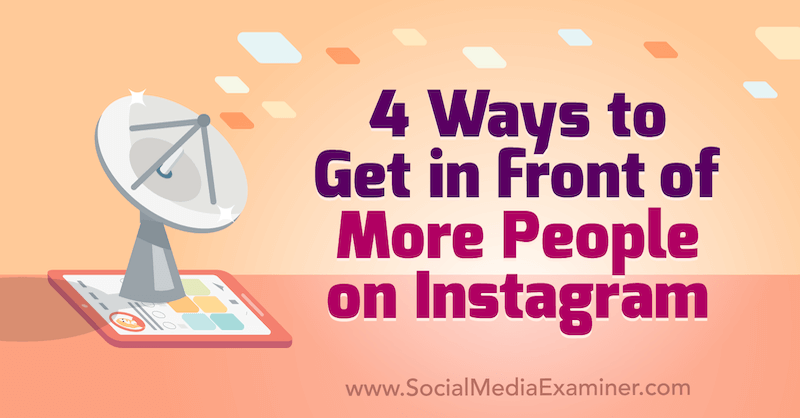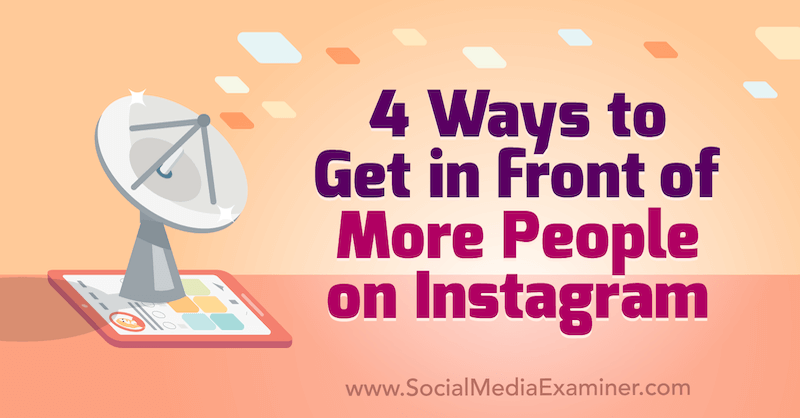 #1: Bring a Guest on Your Instagram Live Video to Reach Their Audience
Instagram Live video gives you an opportunity to show your followers a more candid and personal perspective on your business and talk about things that are happening in real time. Do you have an upcoming launch? A new collaboration? A fundraising event? Instagram Live is the perfect platform to talk about it.
To get in front of a wider audience with Instagram Live video, consider inviting someone to join you to add their perspective. You could interview a thought leader, influencer, or even someone from another business in your industry. Look for a guest whose audience and values align with yours and who can offer value to your viewers.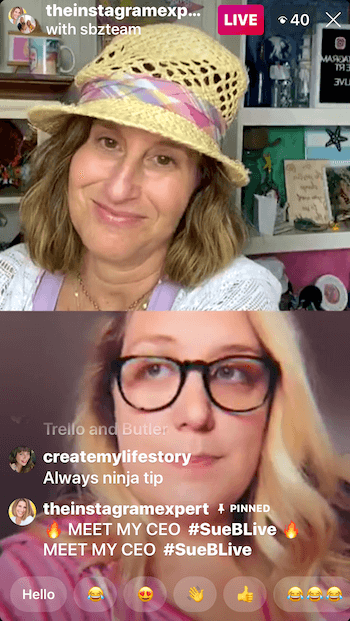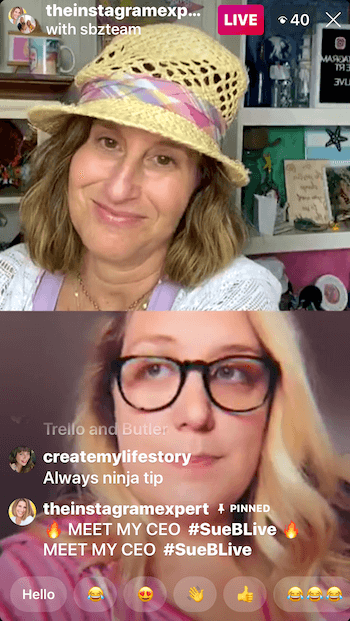 Instagram makes it easy to collaborate with a guest on live video. Before you go live, give your guest a heads-up because they need to be watching so you can invite them to join your broadcast.
When you're ready to start your live video, open the Instagram app and tap the camera icon in the top-left corner. On the camera screen, scroll through the options at the bottom and tap on Live.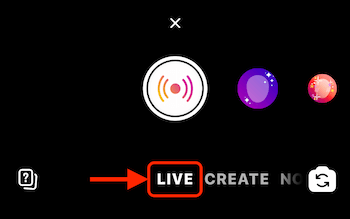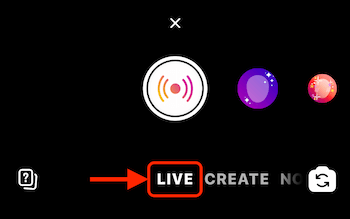 When you're live on Instagram, tap the smiling faces icon to invite your guest to join you. Once they accept, your live video will show both of you on a split screen.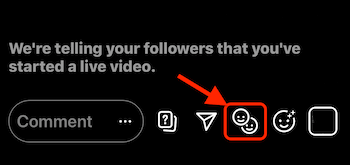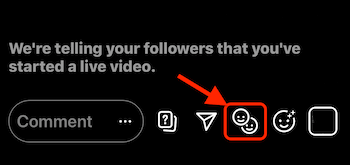 Learn how to improve your Facebook engagement and sales with this new online training. Sale Ends Tuesday!
MASTER FACEBOOK
LIVE THIS AUGUST
If you're just getting started with live video, don't worry about not sounding professional or technical snafus. Live video is raw and organic. It's about showing your true self so your followers can relate to you. It's okay if you occasionally stumble over your words or the background of your shot isn't perfect.
If you're not sure what to talk about, you could give consumers an inside look at your industry, explain how you're adapting to changing technology, or share new ways you're showing up for your customers.
Remember, your Instagram Live discussion should always add value to your followers' lives. Even if you're promoting a product or service, frame it as the solution to your audience's problem.
#2: Run a Shareworthy Instagram Contest or Giveaway
Another way to get more visibility for your business is to focus on what you can contribute to your community. Your customers and clients are the backbone of your business so how can you best serve them?
Consumers today want companies to care about people, the planet, and humanity. So perhaps you could hold a fundraiser for an organization that your Instagram followers care about or create a philanthropic initiative that will resonate with them.
Another option is to launch an Instagram contest and have your followers nominate a worthy recipient of your prize. Ask them to record a video explaining why they're nominating this person and how the prize would benefit them. You could even ask each applicant to say your tagline in the video and use it as user-generated content in your marketing.
A contest like this not only gives back and supports others but also builds trust and goodwill among your audience on Instagram. Plus, your followers will be more likely to share a feel-good contest with their friends.
Earlier this year, recognizing that many parents had children unexpectedly stuck at home, a custom homebuilder launched an Instagram giveaway offering four $50 gift cards to Mastermind Toys. One of the requirements to enter was to have children submit a picture of what their dream bedroom would look like.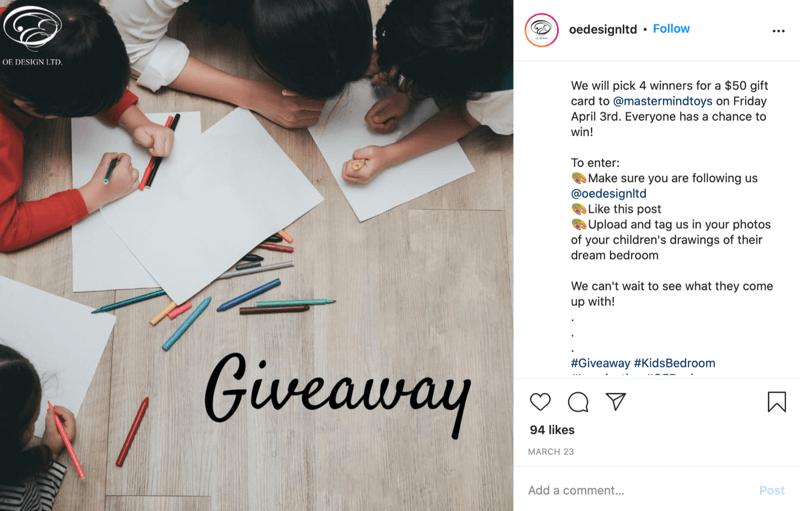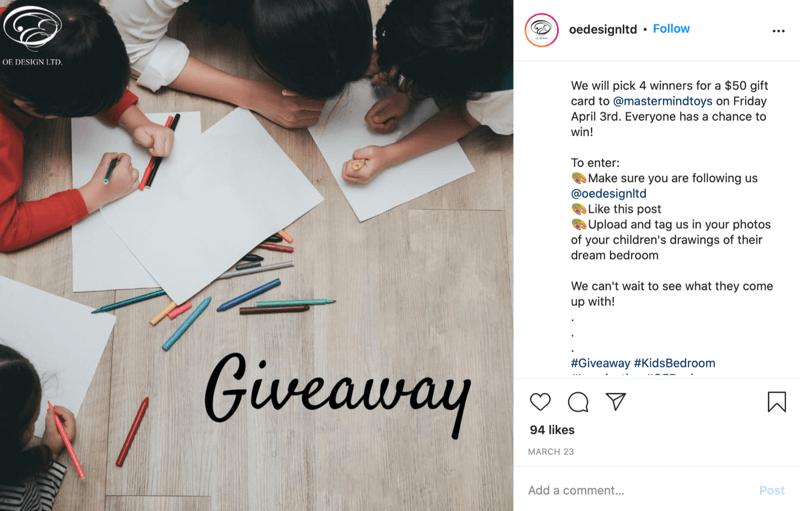 When the giveaway was over, the company shared some of the drawings on their Instagram account. The giveaway was a fun way for the company to get more exposure and build goodwill with their community on Instagram.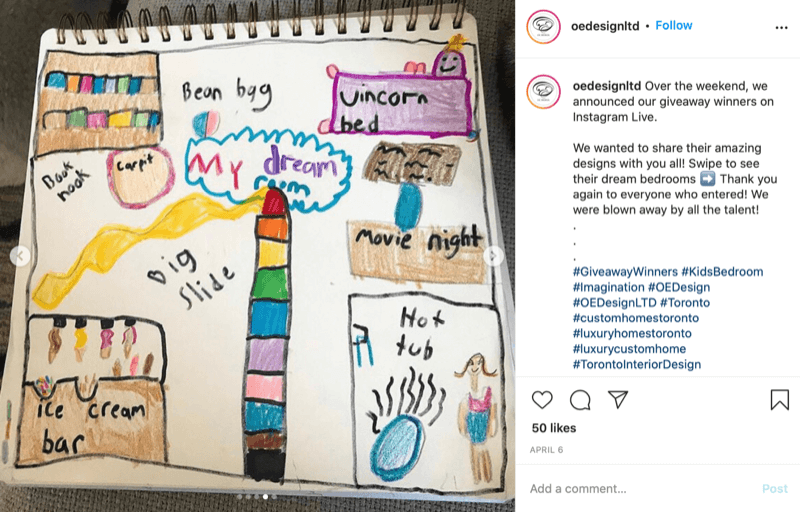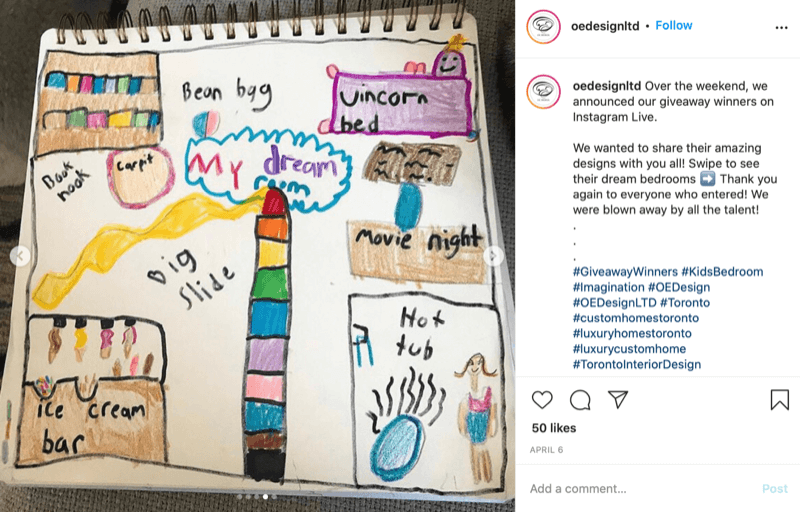 #3: Offer Lead Generators to Build Retargeting Audiences
Your database of customers and leads is your network of connections. On Instagram, you may have thousands of connections in the form of followers. To help you get those followers into your database and build retargeting audiences, consider offering a lead magnet.
Your lead magnet should be something of value to your prospects such as a free guide or a checklist that's relevant to your niche's needs. Think about obstacles or challenges that your prospects or clients face and how you can help overcome or solve those problems. Could you package your insights or solutions into a free download? You can promote that offer on your Instagram account or in your stories.
Get Facebook Marketing Training – Online!
Want to improve your engagement and sales with Facebook? Then join the largest and best gathering of Facebook marketing experts as they share their proven strategies. You'll receive step-by-step live instruction focused on organic Facebook marketing, content creation, and Facebook ads. Become the Facebook marketing hero for your company and clients as you implement strategies that get proven results. This is a live online training event from your friends at Social Media Examiner.
CLICK HERE FOR DETAILS — SALE ENDS JULY 28TH!
In return for the download, capture the user's email address so you can continue the communication and take this prospect through a journey with your business. This opt-in ensures you have the prospective client's permission to send them future communications.
Instagram is a great platform to promote a lead magnet while also conversing directly with your audience to learn about their pain points. Instagram lets you include one link in your bio so you could link to your lead magnet or even your newsletter's landing page. You could also share your link via a swipe-up in your Instagram story.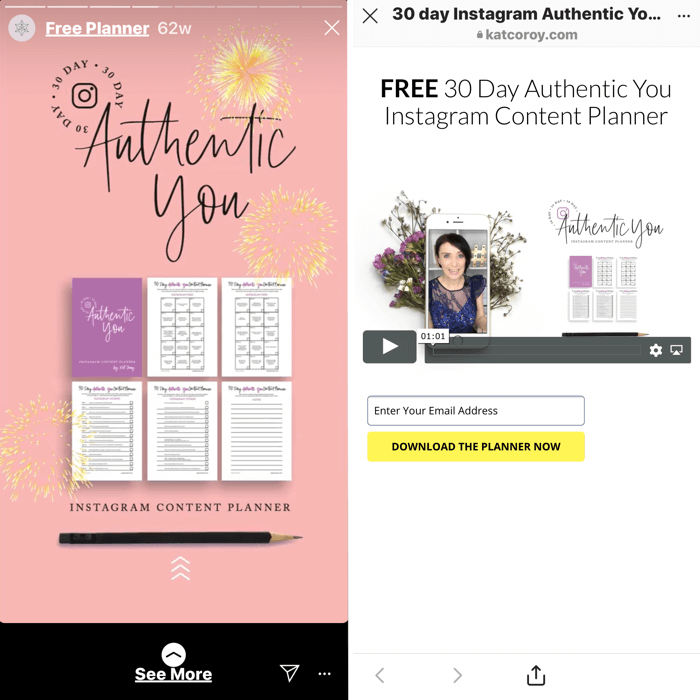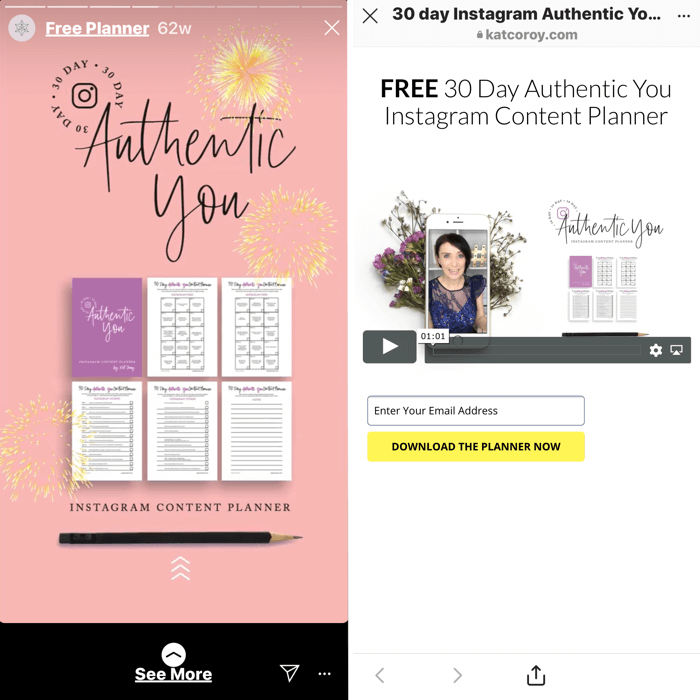 By offering meaningful and relevant content through free downloads and newsletters, you'll start to build a relationship with your prospects where they learn more about you and your message and experience the value your business can provide. Ultimately, you solve a problem for them, which ignites their interest and hopefully leads them to become customers.
In addition to promoting free guides and your newsletter, some other useful lead generation tactics also work on Instagram. Here are some ideas you might try:
Create an email course and promote it on Instagram.
Create interactive quizzes in your Instagram stories.
Offer free trials of your product or service with a code exclusively for Instagram followers.
Promote downloadable checklists and templates in your Instagram bio link.
#4: Pay for Exposure via Instagram Ads
Of course, you can also get in front of more people on Instagram through ads. Before you set up an Instagram ad campaign, you need to understand who your target market is. You should know detailed demographics about who you want to reach so you can target your ads specifically to them.
If you have pivoted your business or added a new product or service, communicating this information via ads can be crucial. You can't rely on consumers to visit your website for new information. You need to get in front of them where they spend time, which is online and on social media platforms like Instagram.
As an example, suppose you're a car dealership and you've come up with a brilliant way for customers to buy vehicles from the comfort of their home. You've created a virtual showroom for prospective buyers that offers listings of new and used vehicles, virtual tours from salespeople, and meetings via phone or Zoom. Everything is done from the buyer's home.
If you've added an awesome new service feature like this, tell people! Instagram ads are an effective, efficient, and timely way to inform people what you offer and how you can serve them.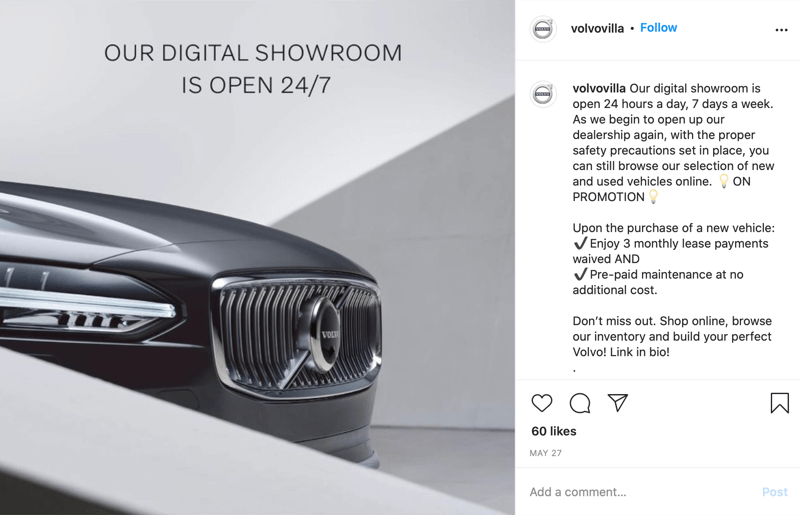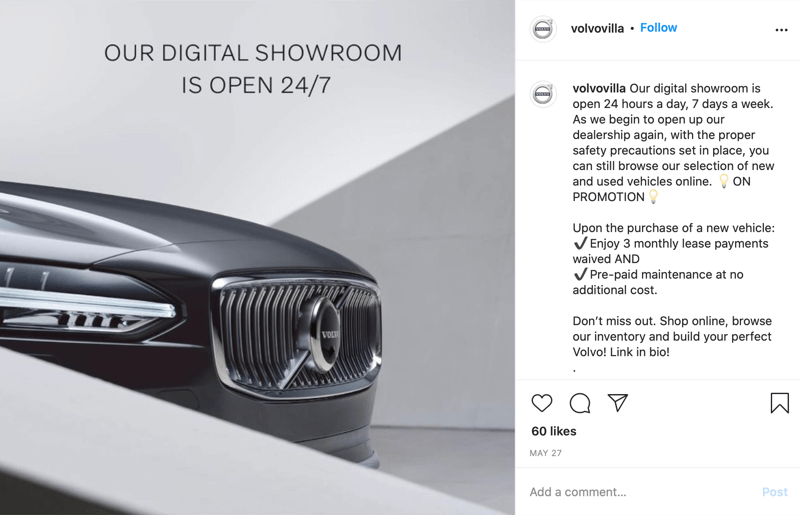 Instagram ads not only let you reach your target market but also give you access to ad analytics and insights including reach, clicks, and other metrics. To see your Instagram ad analytics for the past 7 days, go to your Instagram Insights and select the ad, post, or story you want to analyze. You can test different variations of copy and creative to assess which Instagram ads perform best.
Once you're aware of what users liked (clicked) and didn't like about your ad, you can adapt the for you in future one for better performance. Tailoring the approach is crucial!
Conclusion
To grow your visibility and attract a wider audience on Instagram, focus on building a social community. A social presence on Instagram has the power to increase brand awareness, build reputation, enhance credibility, and hopefully lead to sales.
Some tactics that can help you attract a wider audience include bringing guests to Instagram Live video, leveraging contests or giveaways, offering valuable lead generators, and using Instagram ads.
Once you start attracting new followers, it's important to nurture these relationships and engage with them. For instance, take advantage of Instagram Stories features that help prompt engagement from your followers including polls, questions, quizzes, and swipe-ups.
Be sure to track your efforts. Your Instagram Insights can tell you which posts were saved or shared most and even track your stories' impressions.
What do you think? Will you try any of these tactics to get in front of more people on Instagram? Do you have any tips of your own to offer? Share your thoughts in the reaction below in the comments section.
More articles on Instagram marketing:
Increase your reach, create amazing engagement, and sell more with Facebook! Get online training. Sale Ends Tuesday!
MASTER FACEBOOK
LIVE THIS AUGUST
I hope that you found the above useful or interesting. You can find similar content on our blog: https://www.hostfast.com/blog/
Please let me have your reaction below in the comments section in the reaction section.
Let us know what topics we should cover for you in future.